YOKE The Salon is a creative, forward-thinking hairdressers in Plymouth. At YOKE, we have created a happy and holistic salon, where our focus is on nurturing and growing a community of like-minded people, alongside producing uncompromisingly good hair for our clients.
After spending a few years living and working in Australia, we returned to Plymouth with the aim of establishing a salon where not only would we want to work ourselves, but where other creative, ambitious stylists in the city would want to show off their skills. We opened our doors in 2018, quickly establishing an excellent reputation in the region and beyond. Our most recent accolades include being featured in The Sunday Times Style Best Salons guide 2021 and the Telegraph's Top 50 Salons in the UK 2021, as well as becoming finalists for both Creative Head Magazine and Hairdressers Journal's Team of the Year 2021 & 2022 and The fellowship of British Hairdressing Salon of the year 2021 & 2022.

We invest a great deal of our time and resources on the education and evolution of our team, as we believe that hairdressing can be a fulfilling and exciting career. We strongly believe that to be the best we must learn from the best industry leaders and artists. Our team at YOKE consists of a very talented collective that are making a big impact on the industry nationally.

Based in the historic and beautiful setting of Plymouth's Royal William Yard, YOKE is an ethical, environmentally aware salon, with a focus on sustainability and using eco friendly products. We recycle and reduce our energy consumption as much as we can.
We are proud to be based in Plymouth and to be part of the city's flourishing creative scene. We love to use our platform to not only raise up our awesome team, but to hook up with other insanely talented creatives in the city. From opening our doors to pop-up shops for new indie businesses, to Yoga sessions, Women's retreats, curating photoshoots for local brands and hosting creative launches, we thrive on connecting and celebrating talent in our cool little city by the sea.
A team like no other, we put heart and soul into our work, and it's why we have so many happy and loyal customers.

While each stylist has their own specialism and unique vision, we're proud to have a qualified team with the same strong foundation of skills, who all work to the same high standard.

A shared skillset and ethos comes as standard, regardless of who takes care of you at YOKE. It means you and your hair are always in the best hands.

Dedicated to nurturing talent, we constantly invest in our development, to be true to ourselves and to you. That means education and training with the top teachers and hairdressers in the world.

Competition winners, ambassadors and educators for brands like L'Oreal, ELEVEN and ghd are all part of our gang. And as a team, we reached the semi-finals and finals of L'Oreal's Colour Trophy in 2019, 2020, 2021 and 2022.

We love bringing this flair and knowledge into the salon, to you. We're passionate about creating beautiful hair, with long lasting colours and cuts, and providing an outstanding experience every time you visit.

Take a look at the team that makes YOKE one of the best salons in the country.
Steve
Specialisms: precision cutting, classic colouring and finishing

A highly skilled hairdresser with 20 years' experience, Steve is a precision cutting specialist and has worked at some of the top UK and Australian salons. He is also skilled at session styling and cutting, and has secured national finalist spots in the L'Oreal Colour Trophy competition.

Steve set up YOKE with wife and business partner Jo in 2018 having returned from two years in Sydney, and having spent the time working in one of the city's most exclusive hair salons.

We can't help but namedrop, because Steve's trained under some of the industry's best and brightest. From excelling in advanced cutting and colouring courses with world-leading brands including L'Oreal, Wella, Kevin Murphy and Keune, to training under Eugene Souleiman, Rudi Lewis, Adee Phelan, Trevor Sorbie, the Vidal Sassoon art team, Cobella, and Charles Worthington.

Steve's books are currently filled and he is not able to see new clients however, Steve is always on hand to assist with consultations and can be found at YOKE most days overseeing the team.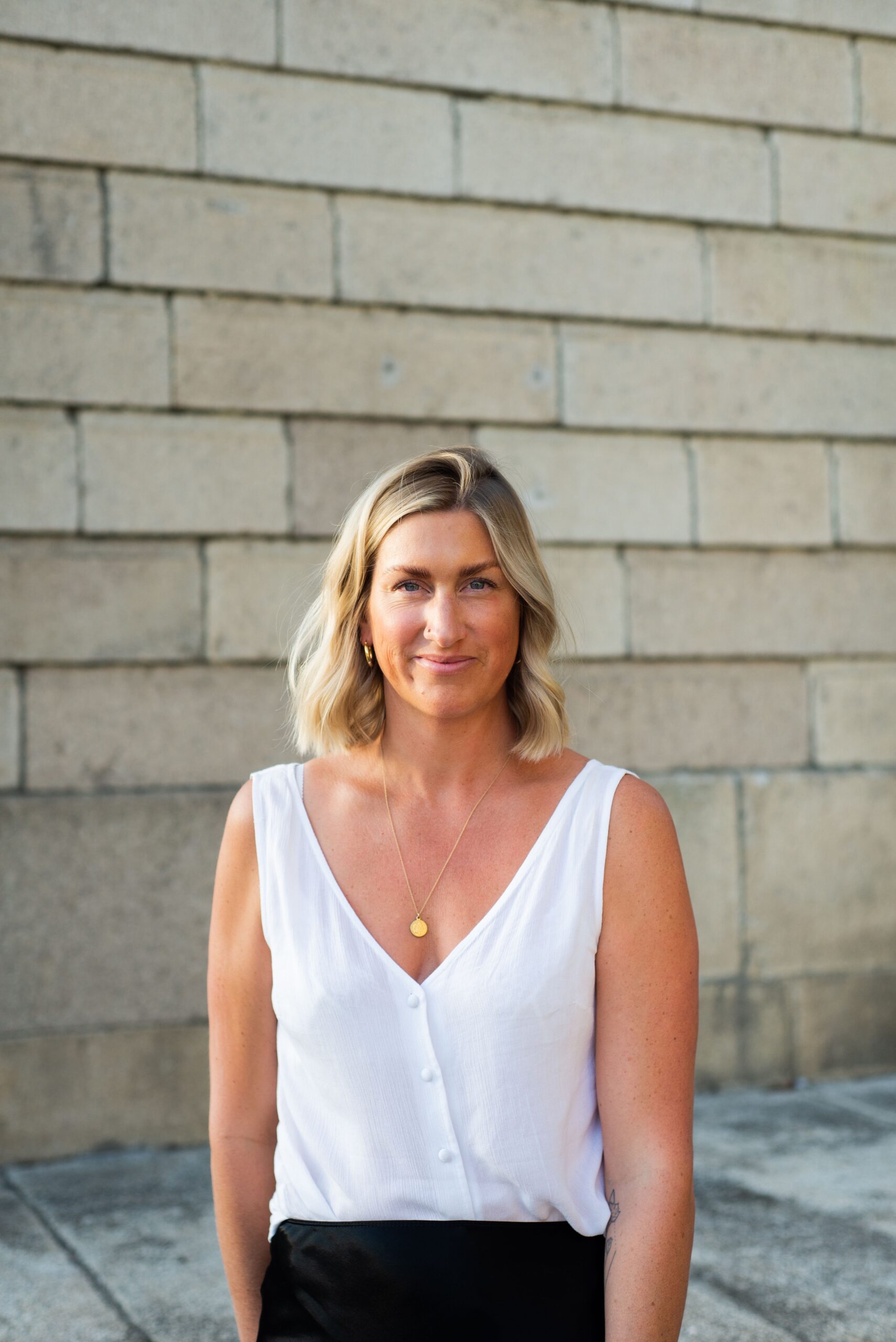 Jo
Specialisms: colour specialist, blondes, colour correction, textured hair and Hair & Scalp health

With a wealth of over 19 years' experience in the industry, Jo Dyer is a skilled L'Oreal Colour Specialist. She co-owns YOKE THE SALON with her husband Steve, cultivating a purpose-driven culture in the exceptional and ethical space. Passionate to create an inclusive community, wellbeing is key to YOKE's ethos and environment. Jo's supportiveness towards her team and customers, extends to the society by hosting women empowerment activities and promoting charities or creatives in running health initiatives.

Starting out at Toni & Guy Cheltenham, Jo's gone on to work alongside some of the top hairdressers and art teams in the world, for numerous productions and competitions, including London and Sydney Fashion Weeks and British Hairdresser of the Year.

Jo is an active part of the Hairdressing industry, openly welcoming and taking part in discussions with other industry leaders, for example taking part at Creative Head's Salon Smart in March 2023. Currently Jo is training to become a Trichologist to bring more education to YOKE and make the salon experience even more holistic.

Jo's books are currently filled and she is not able to see new clients however, Jo is always on hand to assist with consultations and can be found at YOKE most days overseeing the team.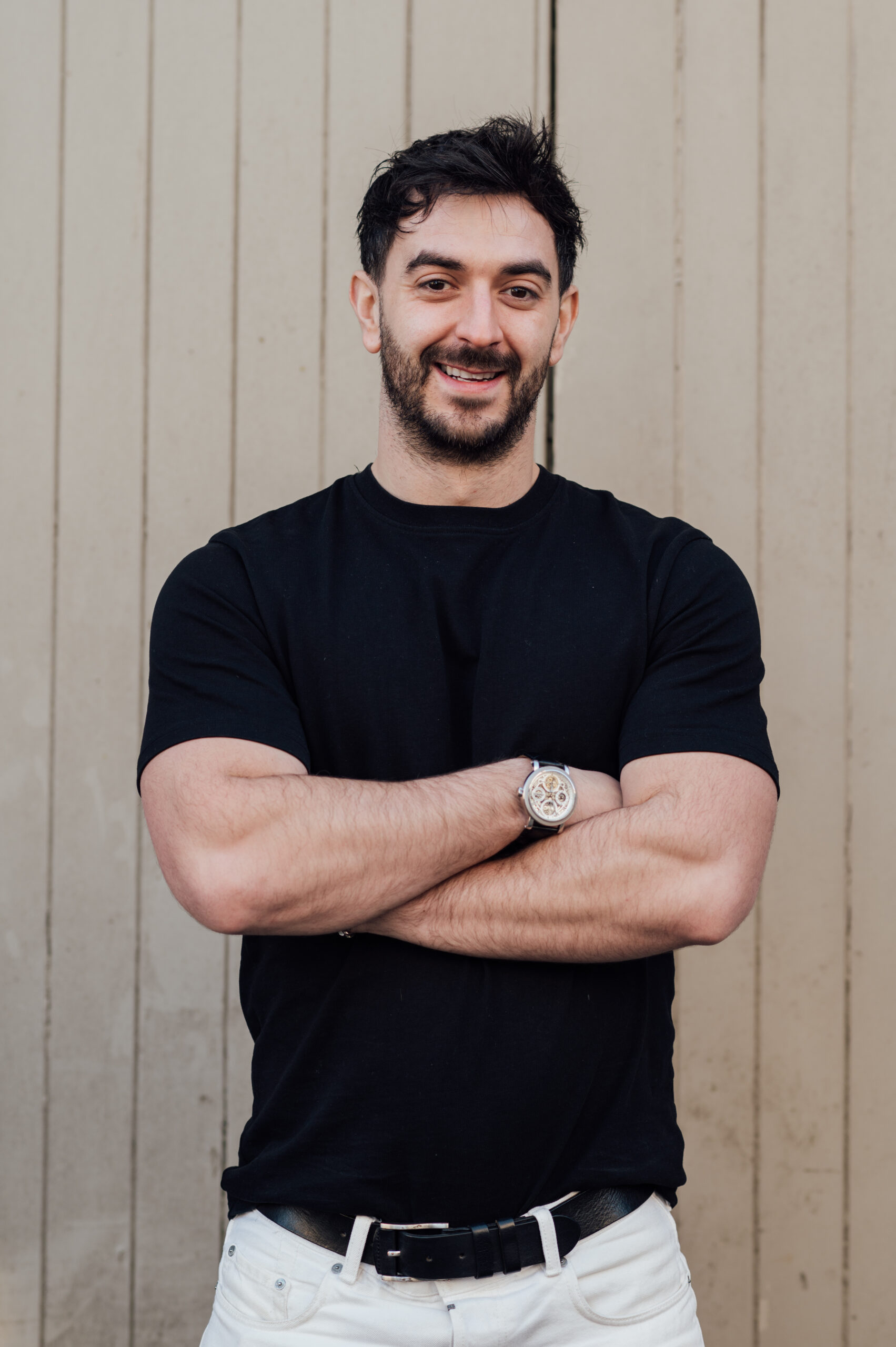 James
Specialisms: precision cutting, creative flair, fashion colour specialist, curly hair

With over 15 years of industry knowledge, James loves inspiring clients with his creative skills. A Director Stylist at YOKE, James brings a huge amount of passion and skill to the salon. He holds a highly coveted Creative Cutting Diploma from Vidal Sassoon and has completed all L'Oreal Colour keys courses.

Always up for sharing his talent as well as developing in the industry, James can be seen on stage demonstrating his skills for the British Fellowship for Hairdressings Project Colour art team, ghd and Denman.

James has previously been a ghd Brand Warrior, and has worked with the ghd art team and mentor Zoe Irwin to teach new trends to other stylists in the South West. He's been part of the L'Oreal ID Artist squad 2020/2022 and has worked backstage at the Central St Martins White show alongside Jamie Stevens and Neil Moody as well as London Fashion week 2022 & 2023 and New York Fashion week 2022 with Diego Miranda. James reached semi-finalist status at the L'Oreal Colour Trophy in 2019, 2020 and 2022 as part of the YOKE team, and has completed all L'Oreal Colour keys courses.
Katie
Specialisms: blonde specialist and long hair expert

Katie loves and excels in all areas of hairdressing; she's an integral part of the team at YOKE and has honed her skills to become a Master Colourist. She shines when it comes to all things blonde; in particular hand painting hair and balayage, and she prides herself in beautiful finishes and relaxed boho hairups.

Beginning her career at 16 while living in Australia, Katie went on to win 1st place in the Intercoiffure photographic competition and worked on the backstage session team at Perth Fashion week for four years. She reached semi-finalist status at the L'Oreal Colour Trophy in 2019 and 2020 as part of the YOKE team, and has completed all L'Oreal Colour keys courses.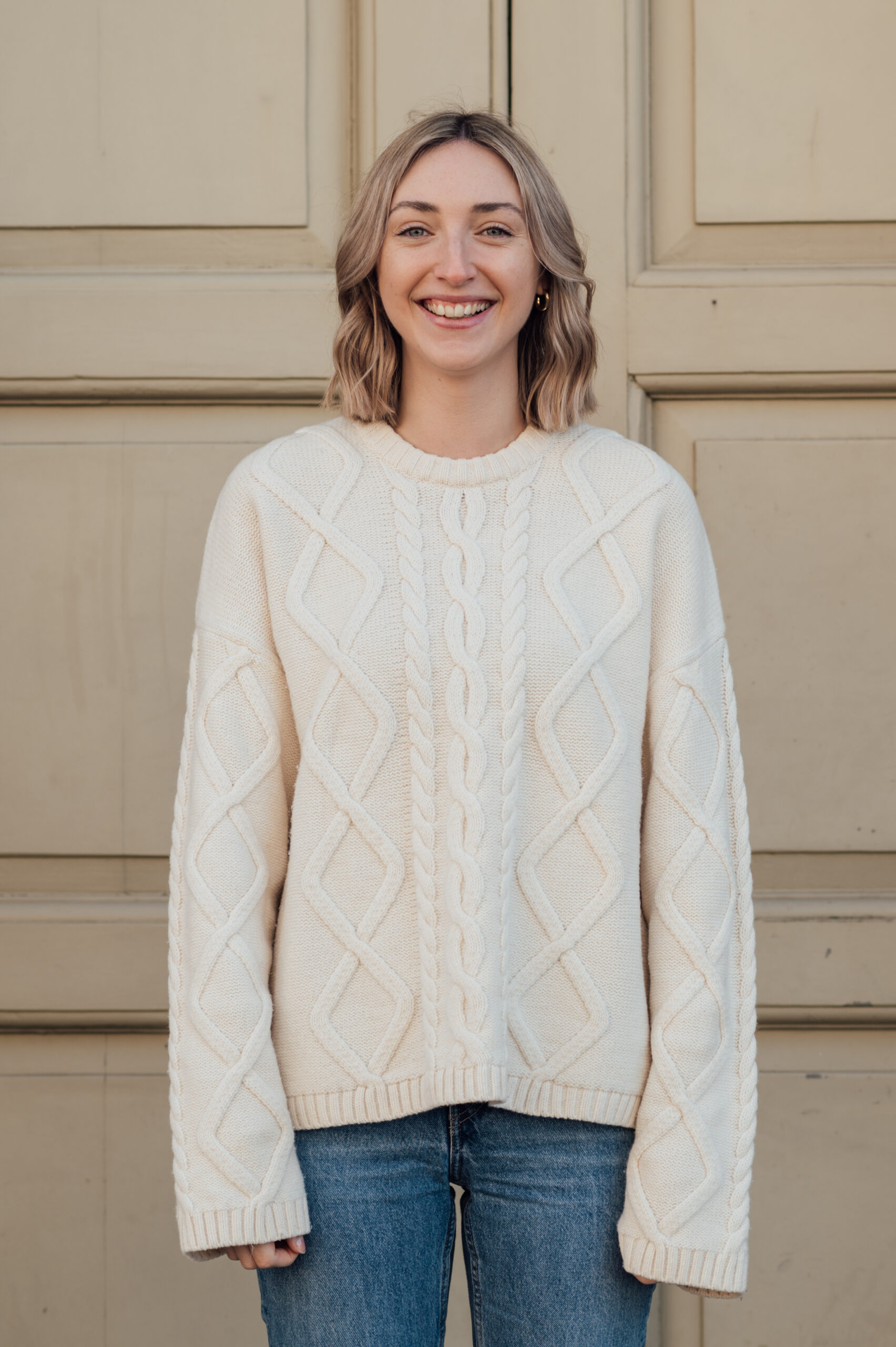 NINA
Specialisms: freehand hair painting – and developing her skills across all areas

Joining us in 2019, we were lucky that Nina decided to change career and come on board as an apprentice. With a BA(hons) in photography and background in fashion retail, Nina is creative in all she does. Trained from the very start at YOKE we are so proud to say that Nina is home bred talent.

Nina's royal clientele will agree that she is an absolute pleasure to spend time with and a thoughtful, caring and extremely talented stylist. This means she is in huge demand with a long waitlist.

Nina was selected from hundreds of applicants to be a part of the very first ELEVEN Collective squad. She was mentored and worked alongside some incredible industry leaders, including Melvin Royce, and Australian hairdresser of the year, Joey Scandizzo. She reached semi-finalist status at the L'Oreal Colour Trophy in 2020, 2001 and 2022 as part of the YOKE team, and has completed all L'Oreal Colour keys courses, and numerous other incredible training courses in London and at YOKE.
Erin
Specialisms: colour correction, short hair cutting, textured hair, classic colouring techniques

A plethora of industry and management qualifications under her belt, Erin is a Wella Master Colour Expert. She started her career at the age of 13 as a Saturday girl and having been qualified for over 15 years, she has a wealth of knowledge, a broad skillset, and attention to detail.

Erin reached finalist level at the Wella Trendvision competition twice and had her work published. She has also trained with some of the top industry professionals, including Patrick Cameron, Darren Ambrose and the Sanrizz Art team. She reached semi-finalist status at the L'Oreal Colour Trophy in 2019 and 2020 as part of the YOKE team, and has completed all L'Oreal Colour keys courses.

As you would expect with such a wealth of experience and expertise Erin has a very busy client list, but is the perfect stylist for any newbies that perhaps have lost confidence with their hair and not had fantastic experiences in the past.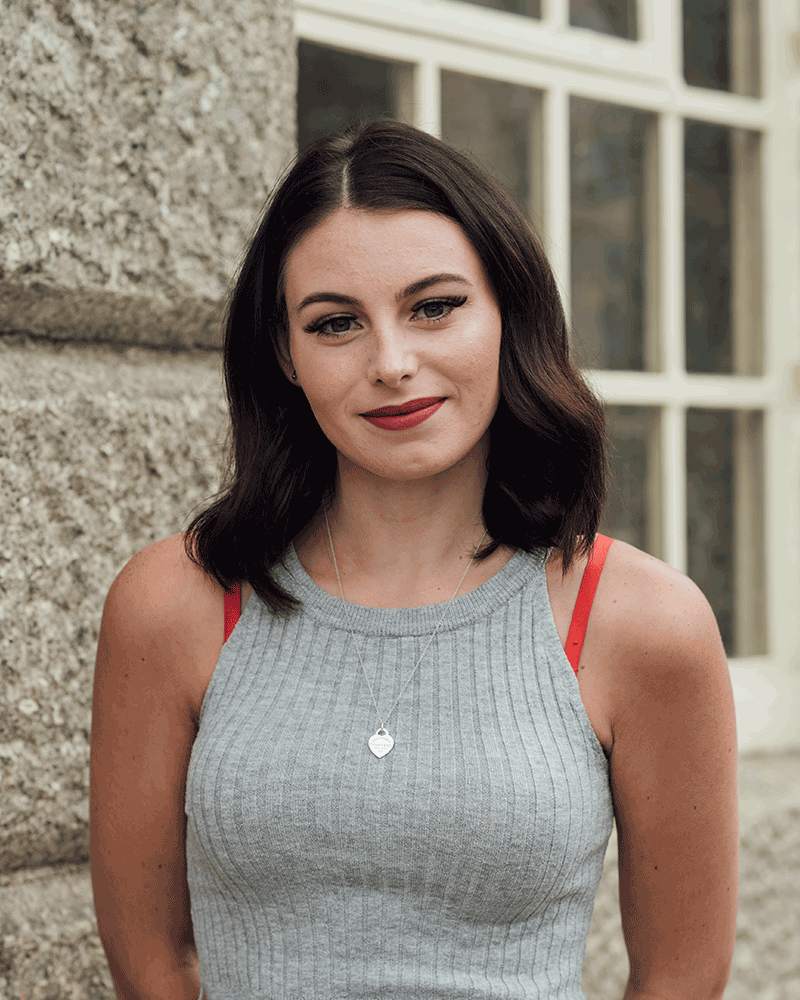 JORDAN
Specialisms: cutting specialist especially bobs, balayage and blondes

A gifted stylist, Jordan's talent and meticulous attention to detail is impressive. She's a competent and confident colourist and stylist, having completed numerous creative courses.

Jordan completed her NVQ 2 & 3 alongside her training at Toni & Guy. She went on to win Toni & Guy's Junior of the year in the south west and will be competing in the National Grand Final, which we are delighted to support her with. She reached semi-finalist status at the L'Oreal Colour Trophy in 2020 as part of the YOKE team, and has completed all L'Oreal Colour keys courses.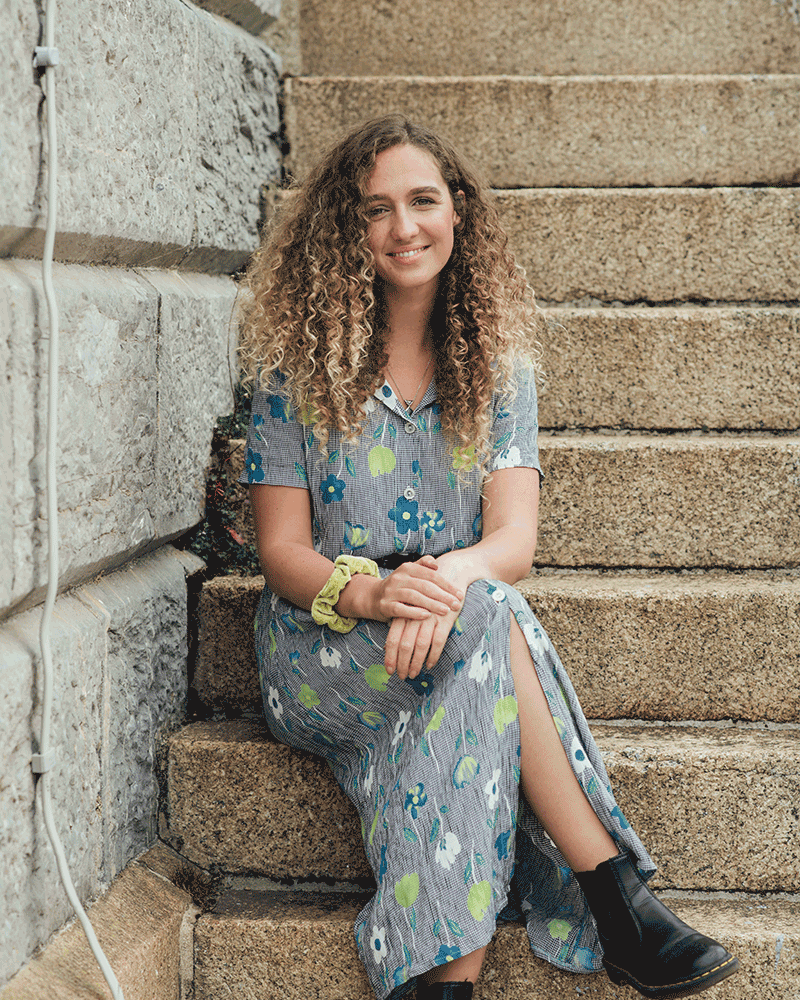 Amelia
Specialisms: lived in hair colour, blondes, and textured hair specialist

Amelia delivers flawless work. With the most beautiful curls of her own, she's developed her skills as a curly and textured hair specialist within the YOKE team. If you want to embrace your natural texture, she has all the tips and tricks to get your curls looking amazing.

While previously working as a self-employed stylist in the city, Amelia's dedication to her career led her to investing in her own training, taking part in courses across the UK. At YOKE, Amelia has developed her skills further, including on courses with Emily Mander and other industry leaders.

Amelia is now a L'Oreal ID artist 2022/23, picked from hundreds of applicants across the UK and Ireland. She reached semi-finalist status at the L'Oreal Colour Trophy in 2020 and finalist in 2022 as part of the YOKE team, and has completed all L'Oreal Colour keys courses.

Currently Amelia is enjoying gaining some session stylist experience through photoshoots for brands like Eleven and backstage at Paris fashion week and The White Show at Central St Martins.
Emily
Specialisms: working with long hair and learning colour

Joining us on work experience in 2020, we're over the moon to now have Emily as a full time apprentice, while studying at Skills Group. Emily is an attentive, kind and caring member of the team – and also a naturally gifted stylist. With a great eye for colour and the confidence to get stuck in, she is developing as a future colour specialist.

Emily has always had an interest in the industry; academically bright she aced her A-Levels before working in retail to develop her natural customer service skills and confidence, then made the welcome move into hairdressing.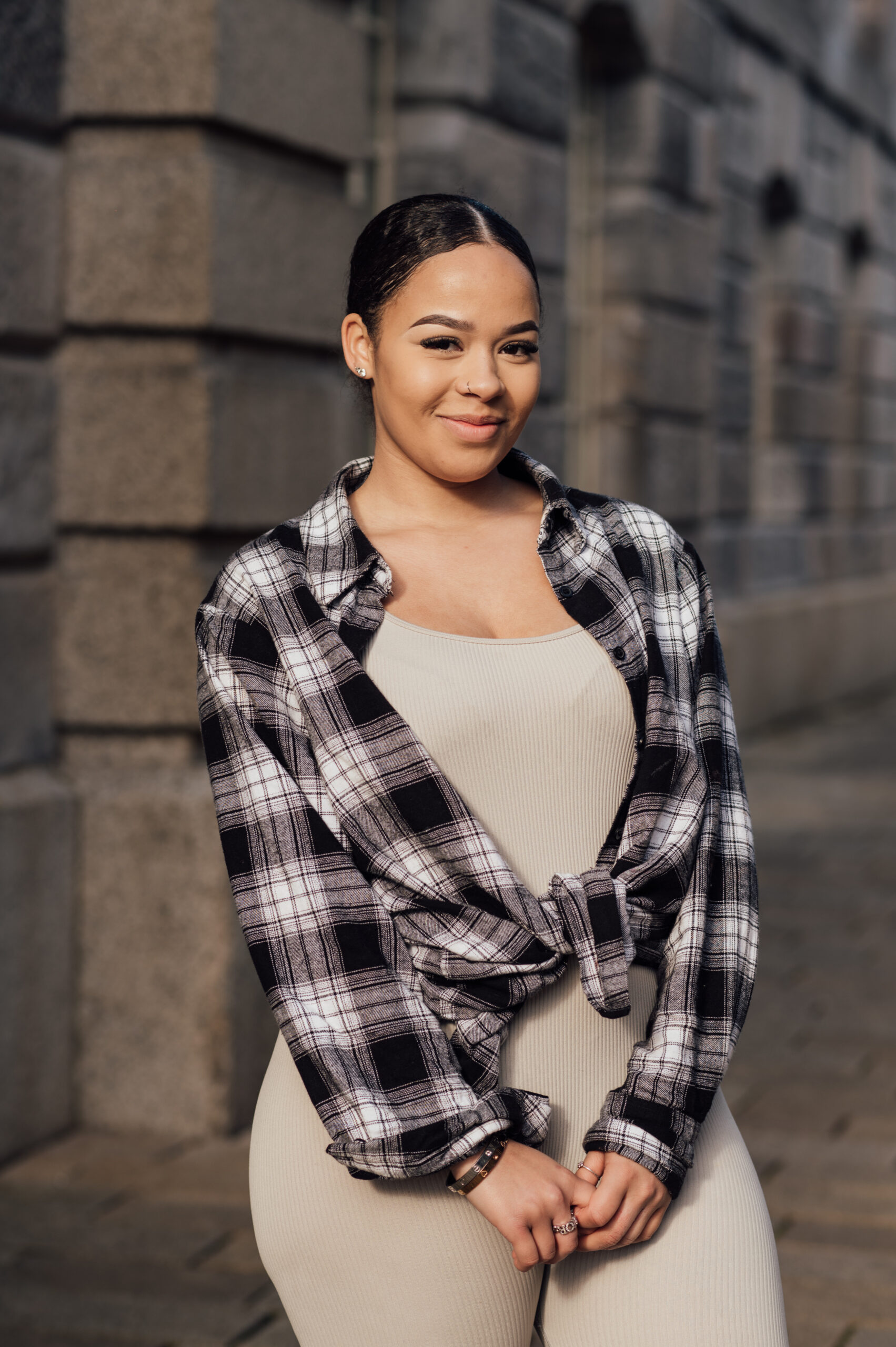 Hope
Specialisms: Currently transitioning from Apprentice Emerging stylist

Hope joined us after impressing us during a stint of work experience. Her drive to wows us all daily, on top of which, she's thoughtful and delivers amazing customer service. We love seeing Hope develop into a stylist and find her niche and passion at YOKE.

Hope's ambition is to specialize in working with curly and textured hair, and use her knowledge and skills to empower people with afro textured hair to embrace and love it. We're doing everything we can to support her dream, with training and encouragement to learn as much as possible.

So far Hope has undertaken numerous courses at L'Oreal HQ in London and all of the training at YOKE with our incredible guest artists.

Currently Hope is on our Emerging stylist band so is offering a highly reduced rate as we build her expertise and confidence.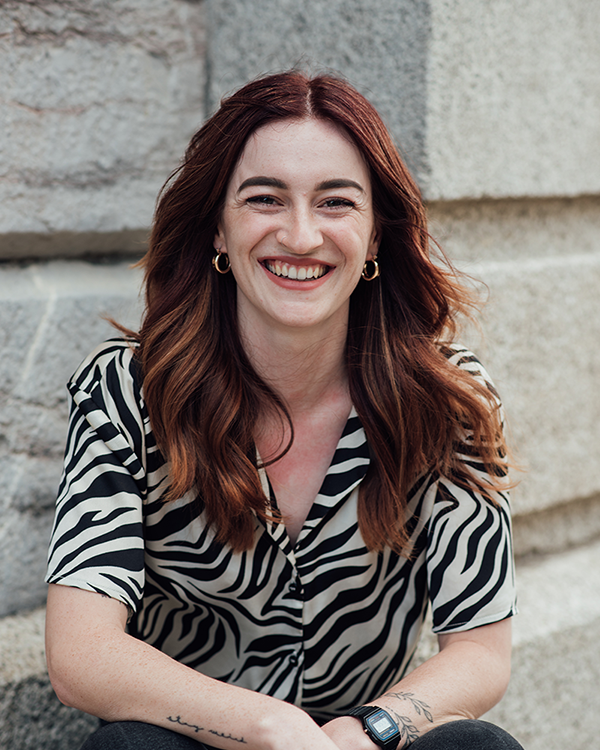 Eloise
Specialisms: lived in colours, balayage, styling

Eloise joined us at YOKE as a Creative Director in 2021. Naturally gifted and with an amazing eye for colouring, her work is soft, and she takes great pride in creating natural colours and beautiful blends, particularly favouring darker hair bases.

Eloise has been dedicated to her personal education and development since she began her career working in Hull. She's one of just six stylists across the UK to be a part of the prestigious ghd Style Squad, where she was mentored and learnt from industry leaders whilst representing one of the biggest brands in the world at seminars and London Fashion week. Eloise is also a L'Oreal ID artist 2022/23. picked from hundreds of applicants across the UK and Ireland. Eloise made it to the finals of L'Oreal Colour Trophy in 2022 in the Rising Star category.
Lucy
Specialisms: customer service and keeping YOKE running smoothly

Part of our warm and welcoming front of house team, Lucy brings amazing customer service and love for detail to YOKE – helping you feel at home the moment you walk in the door.

Lucy also runs her own creative business Never Perfect Studio which is well worth checking out.
Lori
The first point of contact for visitors to YOKE, Lori schedules appointments and ensures our day runs smoothly – all while creating a happy, healthy vibe in the salon. She's also very quickly become a total genius at coordinating a whole number of things at YOKE from the salon's growing calendar of events, to getting to grips with digital content and social media. Assertive, thoughtful and with a heart of gold, Lori very quickly slotted into the YOKE team and in a matter of weeks we don't know how we all managed without her.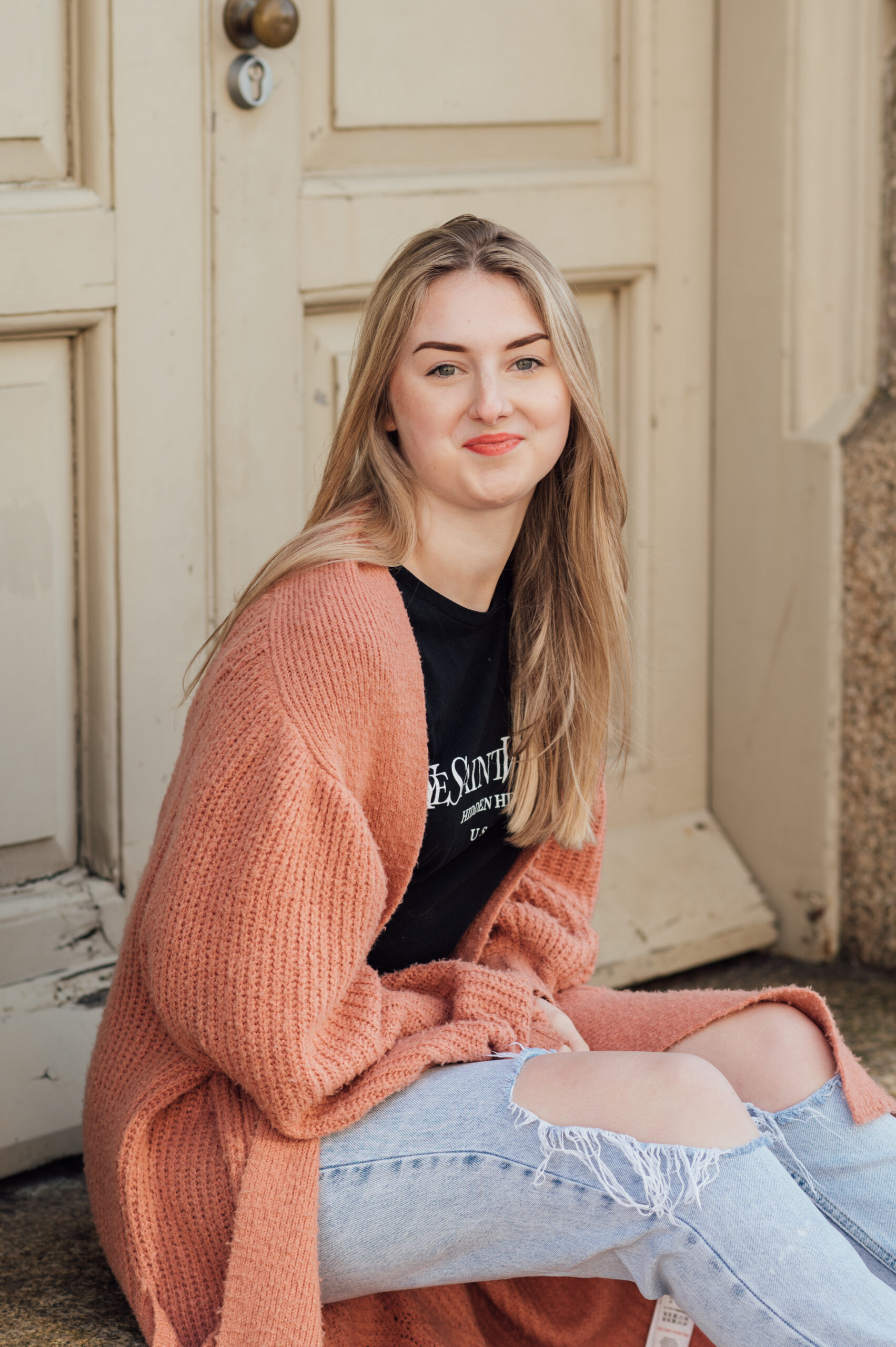 Chloe
Chloe is our newest apprentice at YOKE. Sweet and cheerful, Chloe is joy to have in the salon and is developing a real pride in her work as she begins her journey into the industry.